Low Code vs No Code: Differences and Similarities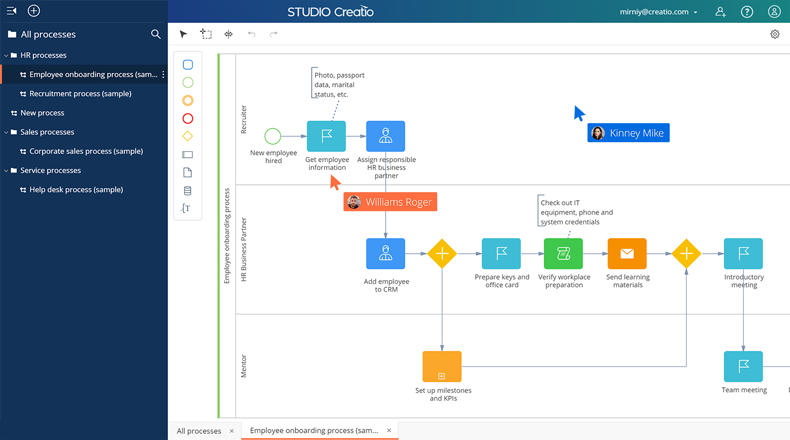 Low-code and no-code platforms are bringing about the biggest transformation in the IT world since cloud-based software. We have seen how cloud-based software like Google Docs took the world by storm and forced traditional providers to change and adapt overnight. And now we are about to see another massive change in the software industry - the rise of low-code and no-code platforms that have the potential to make software development so easy and accessible that almost anyone can do it.
Both of these solutions provide a visual approach to application development that requires minimal to zero coding. If you are looking to build applications for immediate needs, this could be the time to consider moving away from traditional programming experts and adopting a new low-code/no-code platform.
What is "Low Code"?
Low code programming is a software approach that eases development by providing users with drag-and-drop visual blocks of existing code through an easily navigable graphical user interface. Low-code removes up to 90% of the coding process, significantly cuts down on turnaround time, and makes specialised language knowledge less of an issue since all groundwork is already written.
Low-code platforms handle all the grunt work and allow for scalable architectures, flexibility with on-premises or cloud deployment, usability with open APIs, and control over application testing and performance tooling. This enables skilled developers to minimise repetitive coding and concentrate on the last 10% of an application - extending the low-code platform capabilities with their own code, which would otherwise require extra team members or specialised knowledge.
Listed below are some of the advantages of using a low-code platform for application development:
Speed:

With low-code, you can develop apps for multiple platforms simultaneously and present prototypes and working examples to stakeholders in a matter of days, or even hours.

Low Risk/ High ROI:

Robust security processes, cross-platform support and data integration are already built-in low-code platforms and can be easily customised, which minimises risks and allows more time to concentrate on your business.

Lower Cost and More Resources:

If you are working on a big project, low-code platforms prevent repetitive coding and duplicating work, which means things get done faster and at a lower cost.

One-click Deployment:

With low code, launch day is only a single click away to send your application to production.
Example of Low-code Platforms
Creatio is a leading low-code platform for process management and CRM. Creatio is a cloud-based software that merges customer relationship management (CRM) features with business process management (BPM) capabilities. Embracing the "Everyone a Developer" concept for a seamless business-IT alignment, Creatio enables users to rapidly and effortlessly create their own applications by providing the majority of the code, allowing a content management system to be rolled out almost instantly, and offering the ability to fully customise the app. Creatio has been widely recognised by key industry analysts and is being named a Leader in the 2021 Gartner Magic Quadrant for Sales Force Automation.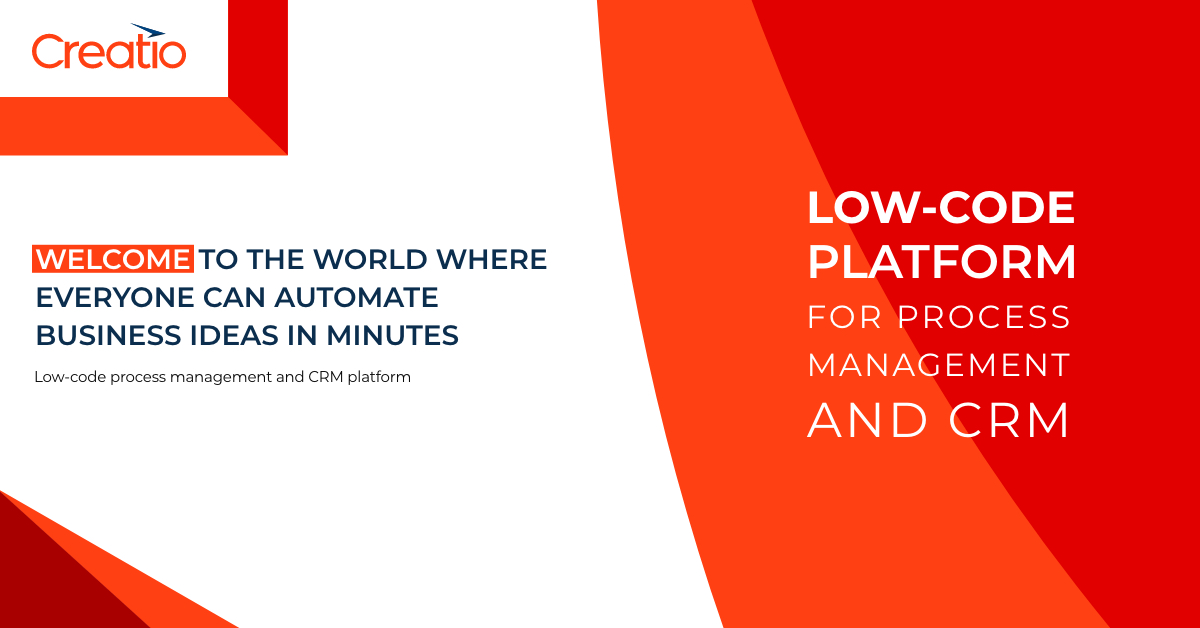 Although no code is a distinct style of application development, no-code is still seen as a subsection of low-code. However, while low-code software may still require coding by someone knowledgeable about programming, no-code platforms allow non-technical individuals with zero programming knowledge to quickly and easily create apps and other tools for their specific needs.
No-code is a visual-based platform with simple, intuitive interfaces and drag-and-drop functionality, which is similar to popular blogging platforms and e-commerce website design companies that offer pre-built pages for users to launch their blog or business site instantly. Since everything the user needs to build a simple and functional app is already built into the tool, there is no need to code anything in the application. No-code platforms require very little training so anyone in your organisation can take the initiative to quickly create an app for immediate business needs without diverting the IT department from mission-critical development projects. In other cases, no-code platforms can help non-technical people create prototypes to present their ideas to the IT department for full development.
Examples of No-code Platforms
Some of the most popular no-code solutions include Canva for graphic design and Creatio for CRM platform. Creatio is the leading provider of no-code software to automate process management and CRM. Creatio offering includes a no-code platform (Studio Creatio), CRM applications (Marketing, Sales and Customer Service), marketplace add-ons and industry workflows.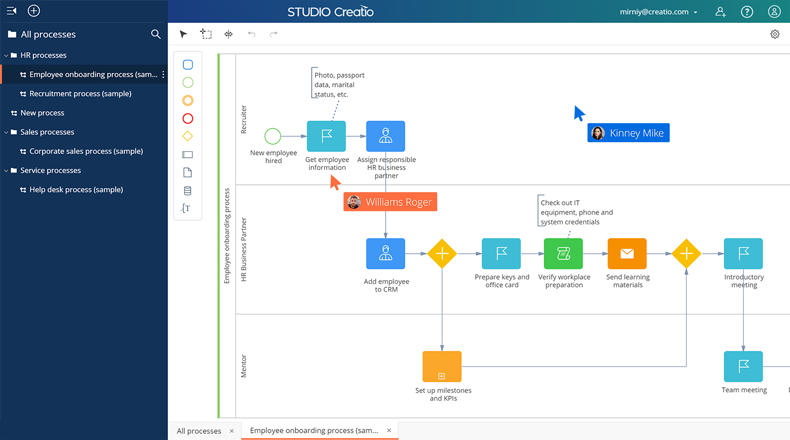 Low-code and No-code Distinctions
The following are some basic features that can help you understand the differences between low-code and no-code platforms:
| | | |
| --- | --- | --- |
| | Low Code | No code |
| Primary Purpose | Development tool for professional developers | Self-service application for business users |
| Coding Need | The coding need is low but present | No coding is required |
| App Complexity | Use for sophisticated and complex apps | Use for basic and simple apps |
| Business Needs | Use for foundational apps that run important business processes | Use for apps that provide frequent updates and solve minor business problems |
| Training | Requires users to have programming knowledge and training | Technical knowledge is not required and little training is needed |
| Usability and Customisation | Offers more developer control and total customisation | Offers simplicity and ease of use. Pre-built templates can be customised |
| Cost-Effectiveness | Cost-effective for organisations within existing team of developers | Cost-effective for organisations with a backlogged IT team and high requirements |
Low-code and No-code for Different Use Cases
No-code solutions can support your organisation's ROI and operations in various ways:
Dashboards and BI Reporting:

With real-time access to your business data, transformation to data grids, critical statistics and digital visualisations, no-code solutions can provide the best reporting tools for business analysts and programmers to turn raw data into meaningful and actionable insights.

Data Management:

No-code platforms allow you to create database apps easily and fast. You can link your sources of data to any database, such as PostgreSQL, MySQL and others, as well as storing, updating, removing, modifying and sharing information. A customisable interface, modular expandable structure, ready-to-use templates and data export/import capability are all available with low-code solutions.
On the other hand, low-code platforms, due to their general-purpose nature, can handle the development of more sophisticated applications and assist a wide range of innovative use cases:
Next-generation technologies

:

Many low-code platforms give you the ability to draw on third-party smart cloud services such as voice and facial recognition, blockchain, AI and machine learning.
Mobile customer service applications

:

Pre-built user-interface templates for customer experience application to optimise uptake and user-friendliness, while also maintaining corporate branding consistency.
Operational efficiency apps and legacy system modernisation

: Low-code platforms can replace, augment or supplement your key legacy systems and applications to automate your business operations, improve productivity and enhance operational performance.
How Low-code and No-code is raising the bar for modern enterprise apps
Gartner predicts that low-code application platforms will be responsible for 65% of all app development by 2024. Enterprises are adopting low/no-code programming at an unprecedented rate to develop the next generation of enterprise applications. Forester estimates that by 2022 the low-code and the no-code market will be worth up to $21 billion, and one of the main reasons behind this exponential growth is speed. As customers and employees now expect enterprise apps to be automated, smart, customised and omnichannel, companies are facing fierce competition with increasing demand for better experiences. In this context, software infrastructure platforms in the coming years will be geared towards facilitating faster development and improving business agility. Gone will be the days of waiting for year-long software customisation or hiring a development house to program an application from scratch, as business users can now quickly take their needs into their own hands with low-code and no-code platforms.
Who needs to change?
Those in classical DevOps positions will be the group that needs to change the most with the rise of low/no-code software and citizen developers. Although the demand for traditional programming experts will not disappear, it is likely that there will be fewer positions available in the job market. Anyone in the software business should familiarise themselves with various tools, APIs and business models that will power the next generation of the industry.
Are low-code and no-code platforms the future of application development?
Absolutely yes. Gartner forecasts that by 2023, over 50% of medium to large enterprises will have used a low-code or no-code platform for their strategic applications and that low-code will account for more than 65% of application development activity by 2024.
Low code/no-code applications can provide a close fit to business needs, can be quickly implemented and typically cost much less than systems built in-house, so neglecting the benefits that these platforms offer could mean missed opportunities for an enterprise. Creatio could be a worthwhile solution to help you grow your business. It is recognised as one of the best low-code and no-code platforms for CRM and BPM, helping drive change and accelerate processes, sales, marketing and service of any organisation, regardless of its size and business model. Creatio empowers both IT and non-IT staff to effortlessly and quickly build enterprise-grade apps and processes. With Creatio, everyone is a developer.